Description: Left-hand side of a small marble panel (w: 0.14 x h: 0.14).
Text: Inscribed on the surviving face
Letters: Irregular capitals: 0.015.
Date: First-third centuries CE (lettering)
Findspot: Sabratha: Regio II; found in the street behind the Antonine Temple (insula 4/10)
Original location: Unknown
Last recorded location: Sabratha Museum.
English translation
Translation by: J. M. Reynolds
To the Lord Silvanus [---] Aemilius Sa[--- paid] his [Uow]
Bibliography: Caputo, 1950, 26, note 2, whence AE, 1950.147; IRT, 1952 12, whence IRT, 2009 12, whence EDH 021886; for BSR images see BSR Digital Collections.
Images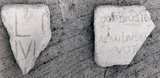 Fig. 1
. From left: Unidentified,
12
: Ward-Perkins, 1948 (Ward-Perkins Archive, BSR 48.XVIII.28)
Fig. 2
. Ward-Perkins Archive, BSR (Sopr. DS 833 Leica)